When Robin the Pig met Lily the Chick – A Love Story in Rhymes
A story of an unlikely love afair between a Pig and a Chicken. They will have to choose between their families who hate each other and their love to each other.
Will love prevail?
Find out yourself.
Available on Amazon as Paperback and E-book.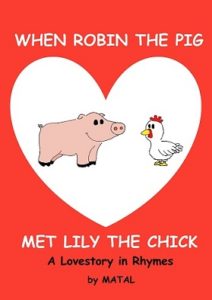 What readers have said about "When Robin the Pig met Lily the Chick":
"A Magical and endearing story about the power of love."
"Not only are his illustrations dream like and beautifully executed, but also his writing style is very strong, making this one of those children's books adults will enjoy reading also. "
"This is a delightful story about Robin the pig and Lily the chick who fall in love…..BTW the illustrations are darn cute."